Scott Martin
Principal
martins@gomaroons.org
906-863-4466
1200 11th Ave,
Menominee, MI 49858
Phone: 906-863-4466
Fax: 906-863-1171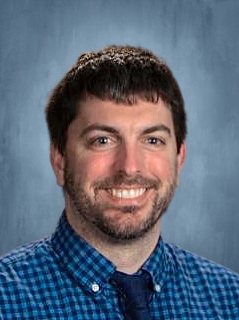 Scott Martin
Welcome to Blesch Intermediate School
Blesch Intermediate School houses students in grades 3-6. We work hard to provide each student with the very best educational experience possible.
We are really proud of the work we do for your students here at Blesch. Some of those points of pride include:
Every student has a Chromebook.

We have implemented a strong virtual learning program created by Blesch staff.

We offer a number of programs for reading intervention.

We utilize ELA and Math small group instruction differentiated based on students' needs, re-evaluated throughout year (even in a pandemic)

Our staff engages in ongoing professional learning in order to help each student succeed.

Our students follow protocols and rules.

Our staff and students are kind and considerate of each other.

We begin each day with social and emotional learning and breakfast in the classrooms to start the day.
Our teachers use Class Dojo to communicate with families of students in their classes. This tool provides a convenient way to engage in two-way communication between families and teachers and we encourage each one of you to create and use your Class Dojo accounts.
Important building information will be communicated via Class Dojo, the live feed feature of our website and App, and we will also be using our alert system which can provide text messages, phone calls and email alerts. We are committed to maintaining regular and effective communication between school and home for each of students and their families.
Please don't hesitate to call the school or email me, martins@gomaroons.org, if I can be of any assistance to you. We want each of our students to feel valued and like they belong here at our school and in our classrooms. Their success here at Blesch is my highest priority.