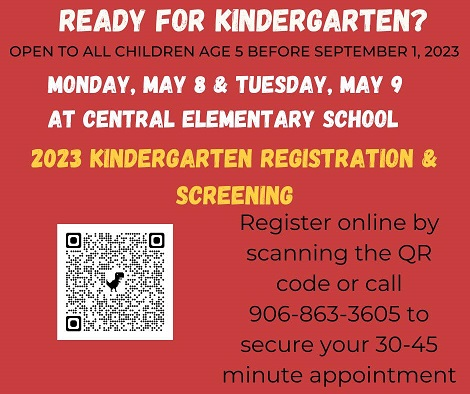 Ready for Kindergarten?
Open to all Children Age 5 Before September 1, 2023.
Monday, May 8 and Tuesday, May 9
at Central Elementary School.
2023 Kindergarten Registration and Screening.
Register online by scanning the QR code or call 906-863-3605 to secure your 30-45 minute appointment.
Kindergarten and New Student Registration
Menominee Area Public Schools is pleased to offer online registration for the current school year. To register your child, please use the online enrollment form below. If you do not have access to a computer, paper copies of the enrollment form are also available at Central Elementary School or at the District Office located at 1230 13th Street. Completed forms can be emailed to the appropriate building principal, and dropped off at the appropriate building or at the District Office.

Children who will be five years old by September 1 are eligible to enter Kindergarten. At the time of registration, please have your child's birth certificate and proof of address (ex: driver's license or utility bill) available.
Please save a copy of the completed enrollment form and email it with a picture of the birth certificate and proof of address to krahj@gomaroons.org or print it and drop it off at the District Office.

If you need help with registration, please call 906-863-9951 Ext. 2126 and leave a message. We will contact you to assist in this process.