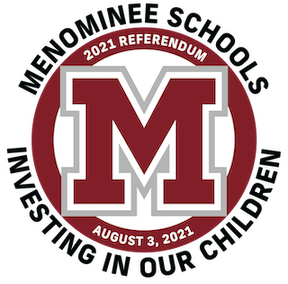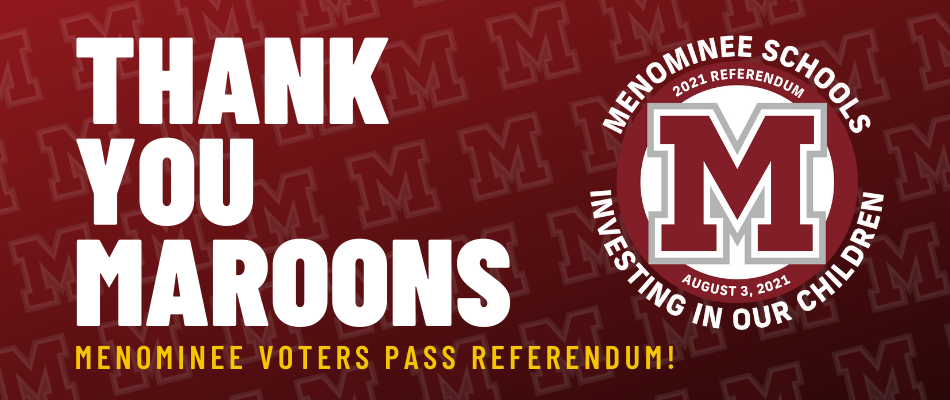 Voters Approve Menominee Area Public Schools Bond Referendum Request
MENOMINEE, MI – August 4, 2021
On Tuesday, August 3, 2021, voters in the Menominee Area School District approved a one-question bond referendum in the amount of $12 million. The vote was 56% yes to 44% no (unofficial results: 1168 yes votes, 936 no votes).
The referendum request was for the purpose of remodeling, equipping and re-equipping the Junior High/Senior High School building.
"We are incredibly grateful to the community of Menominee for investing in our collective future and putting trust in the district to complete these important projects," said MAPS Board President Derek Butler. "Protecting our Jr/Sr High School infrastructure is an important first step in our district's future."
MAPS High School Principal Drew Buyarski shared, "The district is appreciative of the community supporting these projects. Our students and staff will benefit from these projects for years to come."
Next steps include continued engineering work and bid specifications with project partner SitelogIQ through the fall.
The district will continue to keep the community informed on the progress of the building projects.
MENOMINEE SCHOOLS INVESTING IN OUR CHILDREN.
The Menominee School Board has called for a special election on Tuesday, August 3, 2021. The Menominee Area Public Schools will present a one-question bond referendum to voters in the amount of $12 million.
QUESTION:
Shall Menominee Area Public Schools, Menominee County, Michigan, borrow the sum of not to exceed Twelve Million Dollars ($12,000,000) and issue its general obligation unlimited tax bonds therefor, for the purpose of remodeling, equipping and re-equipping the Junior High/Senior High School building, including creating a secure entrance; and developing and improving the site?
The $12 million single-question bond referendum aims to address the following facility needs at the Junior/Senior High School:
Secure Entryway

Replace Unit Vents with Central HVAC System

Replace Existing DDC Control System

LED Lighting Upgrade

Plumbing Improvements

Roof Replacement

Exterior Window and Door Replacement

Sidewalks and Parking Lot

Install ADA Compliant Door Hardware

Elevator Replacement

Electronic Access Control and Door Alarms
WHY NOW?
The Menominee community is strong and the future is bright. Yet, we have significant needs to address at our schools in order to support future-ready students, curb declining enrollment, and address failing infrastructure.
We asked and listened! The community was surveyed after the last referendum failed in May 2020. The majority of survey respondents indicated a new referendum with a refined question should be scheduled by the end of 2021.
WHY FOCUS ON JUST THE JR/SR HIGH SCHOOL FOR THIS REFERENDUM?
Needs across the entire district remain, to include those of our elementary and intermediate schools. Community feedback indicates needs should be address through a two-phased approach. Phase One will take place with the August 3, 2021 referendum vote.
Phase One will address the needs of the Jr/Sr High School as those present the most recognized and accepted needs with the clearest solutions. Phase Two will address Central Elementary and Blesch Intermediate School needs in a future referendum.
QUICK LINKS
LEARN MORE
Email
butlerderek@gomaroons.org
Call
906-863-9951
Find Us