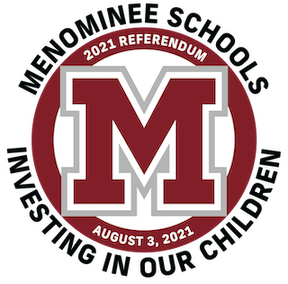 A FISCALLY RESPONSIBLE INVESTMENT IN OUR CHILDREN AND SCHOOLS
Bond interest rates for projects are at an all-time low but projected to increase in the months ahead. This means more tax money can be spent on projects rather than paying interest.

Construction inflation is increasing at a steady rate. The longer we wait to complete these projects, the more it is going to cost.

The school district will receive $2.0 million in ESSER (COVID relief) Funds from the Federal Government. Combining the ESSER Funds with referendum money allows the district to complete more comprehensive improvements.
TAX IMPACT
The estimated tax impact based on a median value home in Menominee per $77,600 average assessed value ($38,800 taxable value) would be $5.01 per month.
HOW DOES THIS AFFECT ME?
Grab your tax bill and use the link below to find your tax impact using our tax calculator.
QUICK LINKS
LEARN MORE
Email
butlerderek@gomaroons.org
Call
906-863-9951
Find Us