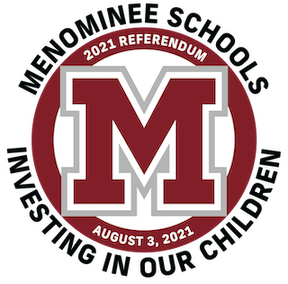 VOTING INFORMATION
The vote will take place on Tuesday, August 3, 2021. Polls will be open 7am to 8pm on that day.
VOTING DAY LOCATIONS
​City of Menominee
Menominee High School
2101 18th Avenue
Menominee, MI 49858
Menominee Township
Township Hall
N2283 O-1 Drive
Menominee, MI 49858
Ingallston Township
Township Hall
W3790 Town Hall Lane
Wallace, MI 49893

VOTE EARLY IN PERSON OR ABSENTEE
You can vote early in person or apply for an absentee ballot starting Thursday, June 24, 2021 at your City/Township Clerk's office. You can apply for the absentee ballot and vote that ballot during the same visit. Early voting continues until 4pm the day before the Election. If you prefer, you can bring your ballot home to vote, just be sure to return the ballot by 8pm on Election Day.
Absentee voting is available, and no reason is required. The last day to request an absentee ballot is 4 days before the election. You can return your absentee ballot request form through mail, in person at your local elections office, or online. Voted ballots must be received by Election Day in order to be counted. You can sign up to track your absentee ballot on your Department of State website. Absentee ballots begin being counted on Election Day.
Follow this link for the absentee ballot application and further instructions:
LEARN MORE
Learn more about voting – including how to register – at michigan.gov/vote
QUICK LINKS
LEARN MORE
Email
butlerderek@gomaroons.org
Call
906-863-9951
Find Us